Fandom:
Supernatural
Medium:
TV Show
Subject:
Sam/Castiel
Title:
Lights Will Guide You Home
Notes:
This one's for
marziebarz
who I have a sneaking feeling has asked for this one before. D: Oh well. I hope this suits. (For some reason, working out cover art for this one was a
bitch.
I'm not sure why (This is a weird mix of very mild crack and somewhat serious-ish. idk.) THERE IS ONE MORE READY FOR POSTING and then I swear I'm done for like twelve hours I swear.
Don't shoot me.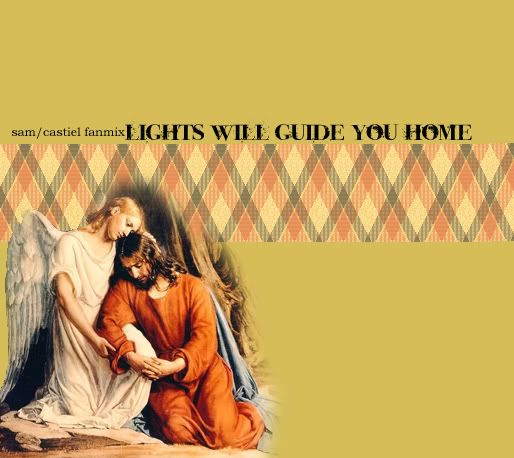 download .zip here
Armistice - Patrick Wolf
If you'll be weak
Then I'll be strong
When the night is long
Saw Something - Dave Gahan
I saw something in your eyes I'm sure
And baby I saw it
There was something in your eyes
I wanted it for myself
No Surprises - Regina Spektor
A heart that's full up like a landfill
A job that slowly kills you
Bruises that won't heal
You look so tired, unhappy
The Mercy of the Fallen - Dar Williams
There's the wind
And the rain
And the mercy of the fallen
Who say they have no claim
To know what's right
Fix You - Coldplay
Lights will guide you home
And ignite your bones
And I will try to fix you
Hallelujah - Rufus Wainwright
And remember when I moved in you
The holy dark was moving too
And every breath we drew was Hallelujah
Everything - Alanis Morissette
I can be an asshole of the grandest kind
I can withhold like it's going out of style
I can be the moodiest baby and you've never met anyone
Who is as negative as I am sometimes
Never Let Me Go - Florence + the Machine
And the arms of the ocean are carrying me
And all this devotion was rushing out of me
In the crushes of heaven for a sinner like me
But the arms of the ocean delivered me
May It Be - Enya
May it be an evening star
Shines down upon you
May it be when darkness falls
Your heart will be true
You walk a lonely road
Oh! How far you are from home
Head Over Feet - Alanis Morissette
You've already won me over in spite of me
And don't be alarmed if I fall head over feet
Don't be surprised if I love you for all that you are
I couldn't help it
It's all your fault
Can't Take It In - Imogen Heap
Can't close my eyes
They're wide awake
Every hair on my body
has got a thing for this place
Oh empty my heart
I've got to make room for this feeling
so much bigger than me