Fandom:
Supernatural
Medium:
TV Show
Subject:
Lucifer/Sam
Title:
fill the graveyards (until i have you)
Notes:
One more fanmix under the 2011 wire. At least for me. This one for
vail_kagami
. And then maybe I'll try to write fic or something. Goddamn this is just ridiculous. BUT I LOVE MAKING COVER ART. Also now I am looking for more creepy love songs. Because you know. I can.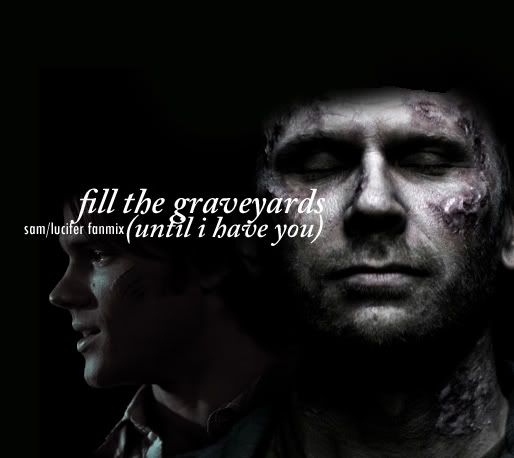 download .zip here
Every You Every Me - Placebo
Carve your name into my arm
Instead of stressed, I lie here charmed
Cuz there's nothing else to do,
Every me and every you
Prelude 12/21 - AFI
This is what I brought you, this you can keep
This is what I brought, you may forget me
I promise to depart, just promise one thing
Kiss my eyes and lay me to sleep
Glass - Bat for Lashes
And with two suns spinning
At two different speeds
Was born a hot, white diamond
Burning through the rainbow
Flames fell into orbit
To hold eternally
Two heavenly spirits
That just wouldn't seem
Forest - System of a Down
Walk with me my little child
To the forest of denial
Speak with me, my only mind
Walk with me until the time
Make the forest turn to wine
You take the legend for a fall
Furious Angels - Rob Dougan
You're a cold piece of steel between my ribs
and there's no saving me, yeah
And I can't get up,
from this wet crimson bed that you made for me
Haunted - Evanescence
Watching me, wanting me
I can feel you pull me down
Fearing you, loving you
I won't let you pull me down
Aquarius - Within Temptation
I relinquish
To your powers
From your grasp
I just can't hide
Face to Face - Siouxsie and the Banshees
Face to face
my lovely foe
Mouth to mouth
raining heaven's blows
Hand on heart
tic tac toe
The Bird and the Worm - The Used
All alone he turns to stone
while holding his breath half to death
Terrified of whats inside
to save his life he crawls
like a worm from a bird
If You Feel Better - Emilie Autumn
And I'm sorry to cause you so much pain
And I'm sorry to bring you down again
The Horror of Our Love - Ludo
Moonlight walking, I smell your softness
carnivorous and lusting to track you down among the pines.
I want you stuffed into my mouth
hold you down and tear you open, live inside you -
love, I'd never hurt you.
But I'll grind against your bones until our marrows mix
I will eat you slowly...
Current Mood:

lethargic

Current Music:

White Flag - Dido