Fandom:
A Song of Ice and Fire
Medium:
book
Subject:
Sansa/Mya
Title:
the walls are down a little more each day
Notes:
So this one's been...done for a while. Shamelessly adorable, with almost absurd amounts of Dido. For why you should ship this, I direct you to
this tumblr post.
I WILL GET TO THE PHOTOSET FROM COMICON EVENTUALLY I SWEAR. ...but there are fanmixes to post. :D? I should start...crossposting these, or something.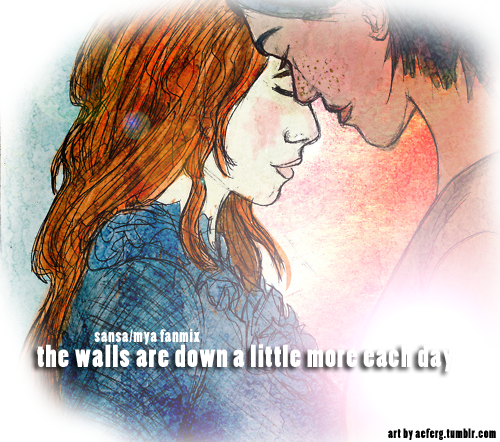 DOWNLOAD .ZIP HERE
Thank God I'm Pretty – Emilie Autumn
I'm blessed
With the ability to render grown men tongue-tied
Which only means that when it's dark outside
I have to run and hide can't look behind me
Thank God I'm pretty
Somebody – Bonnie McKee
But I know, I won't cry
Cause' there's somebody somebody somebody waitin' for me
Out in the rain
Won't cry
Not tonight
Because there is somebody waitin' for me
Butterflies Instead – K's Choice
I lock the door and lock my head
And dream of butterflies instead
The beauty of their colored wings
The trees, the grass and pretty things
Imagination fills the void of my existence
Ooh Child – The Five Stairsteps
Some day, yeah
We'll put it together and we'll get it all done
Some day
When your head is much lighter
Some day, yeah
We'll walk in the rays of a beautiful sun
Some day
When the world is much brighter
Grapevine Fires – Death Cab for Cutie
And we watched the plumes paint the sky gray
And she laughed and danced through the field of graves
There I knew it would be alright
That everything would be alright,
Would be alright
The Sussex Carol – Nightnoise
instrumental

This Land Is Mine – Dido
After all the battles and wars, the scars and loss
I am still the queen of my domain
And feeling stronger now
The walls are down a little more each day, since you came
Finally, finally times are changing
After the Storm – Mumford & Sons
And there will come a time, you'll see, with no more tears
And love will not break your heart, but dismiss your fears
Get over your hill and see what you find there,
With grace in your heart and flowers in your hair

The City – Patrick Wolf
Won't let the city destroy our love
Won't let the city destroy my love
Won't let no mistake take the roof from off our heads
The One Who Knows – Dar Williams
I will watch you struggle on
Before the answers come
But I won't make it harder
I'll be there to cheer you on
I'll shine the light that guides you down
The road you're walking on
Isobel – Dido
Dear Isobel
I hope you're well and what you've done is right
Oh it's been such hell
I wish you well and hope you're safe tonight
Kiss Me – Sixpence None the Richer
Oh, kiss me beneath the milky twilight
Lead me out on the moonlit floor
Lift your open hand
Strike up the band, and make the fireflies dance
Silver moon's sparkling,
So kiss me
Full of Grace – Sarah McLachlan
The winter here's cold and bitter
It's chilled us to the bone
We haven't seen the sun for weeks
To long too far from home
I feel just like I'm sinking
And I claw for solid ground
I'm pulled down by the undertow
I never thought I could feel so low
Oh darkness I feel like letting go
If all of the strength and all of the courage
Come and lift me from this place
I know I could love you much better than this
Full of grace
Your Song – Ellie Goulding
And you can tell everybody,
This is your song
It may be quite simple but
Now that it's done
I hope you don't mind, I hope you don't mind
That I put down in words
How wonderful life is now you're in the world
Sinéad – Within Temptation
Oh Sinéad,
For the first time
Life is gonna turn around
I'm telling you
You will like it, I know
Under Your Spell – Buffy the Vampire Slayer
I'm under your spell
How else could it be
Anyone would notice me?
It's magic, I can tell
How you set me free
Brought me out so easily
Marsh King's Daughter – Eisley
And I just know that we could work out
Even though your royalty and I am not
But there's a chance that you are wrong and
I am right this time
See the Sun – Dido
And you probably don't want to hear tomorrow's another day
Well I promise you you'll see the sun again
And you're asking me why pain's the only way to happiness
And I promise you you'll see the sun again
Current Mood:

accomplished

Current Music:

The City - Patrick Wolf